Odoo
Flexible and efficient
What makes Odoo stand out from other ERP systems is among other things that the source code is available to everyone.
When the source code is available it means that you can make changes to it. Therefore you will find that the possibilities are endless when it comes to customizing the system to the needs of your business. When using the tradtitional ERP systems your business will have to adjust its workflow to fit the system, but the strength of Odoo is that you can modify the system to fit your workflow.
The flexibility of Odoo is thus translates directly into increased efficiency in your business.
FlexERP is experienced in customizations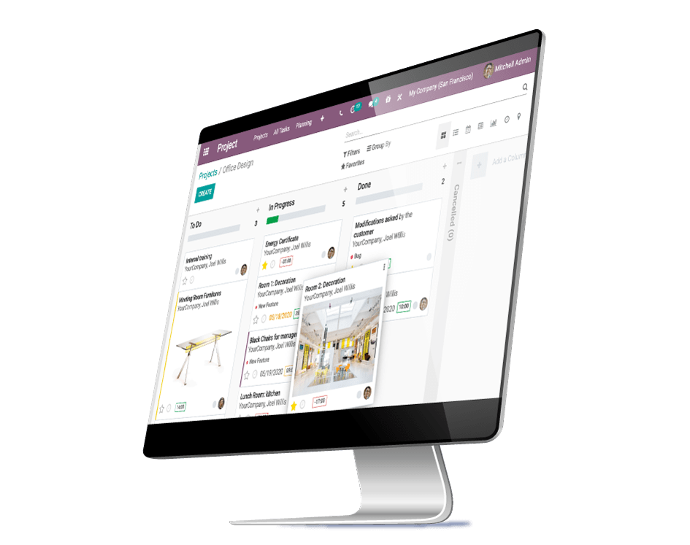 Odoo is a complete ERP system for your business
Odoo is a complete and flexible ERP system which encompasses all your administrative processes from sales to purchase, inventory, projects, accounting and human ressources. Furthermore, you will find a complete CMS-based website builder with full integration to the other apps. Here you can build your webshop with a direct integration to all your products, customers and accounting. If you have a physical store or restaurant you can also find a complete point of sale (POS) app with an easy to use user surface that works as an extention to the rest of the system. To sum it up: the days of complicated and expensive integrations between multiple software systems are over. As Odoo is based on the international open source concept the system is available to everyone. At FlexERP we offer a Danish localization and translation and we provide support and guide you with regards to your hosting options.

1 or 1000 users?
Once Odoo has been configured to the needs of your business you can have as many users as needed. Large businesses may have more advanced needs than small ones, but this is easily handled through activating/deactivating the more advanced functionalities and menus in the system. This way the system always matches your needs and the size of your business. Despite the complexity of the system and its many functionalities it is very user-friendly and simple to work with, and all your employees will quickly feel confident in their daily Odoo workflow regardless of their technical prowess.

Webshop in Odoo
As a new customer you can get the eCommerce app for free - you won't have to pay a license fee as long as you only use one app. The first app is always free, and this applies to all apps. Read more here.

Odoo
An app for every need

Accounting
Sale
CRM
Contacts
Inventory
Production

Expenses
Documents
Sign
Contacts
POS
Rental

Subscriptions
Website
eCommerce
eLearning
Maintenance
Purchase

Email Marketing
Social Marketing
Survey
Project
Timesheets
Studio

Quality
Employees
Leaves
Payroll
Recruitment
Events