Start digitalization with a Webstore
It is a successful implementation process when it has a positive impact on more areas, launches a new business initiative and can be expanded further step-by-step. Apart from these external factors support can be gained from the government. These all together can be done relatively easily by launching an Odoo Webstore. Sounds too much in a nutshell? I will elaborate it carefully below.
27 January, 2023
by

FlexERP ApS, István Kürtösi
The "holy graal", I describe below is the implementation of a Webstore - therefore it relates to the IT services for companies. IT services are part of the digitalization which goes on in the last couple of years, in every aspect of our life. We can be customers or sellers, in our private life or as part of our work - but for sure, we access to Webstores more and more. We cannot avoid it, so better to ride the trend by our company also. Luckily it is part of Danish culture to be digital. So I don't need to explain more about IT and Webstores. See the image above. (Source: https://www.statista.com/statistics/1042743/worldwide-digital-competitiveness-rankings-by-country/

But I explain a bit deeper the "ERP" term: it is an IT system where companies manage their data available from all of their business processes: Sales, Inventory, Accounting, Human Resource, Production, etc. Apart from these core services we can think on - just as examples: from car fleet management, through projects to digital signatures. A visual representation for the set of areas can be seen here: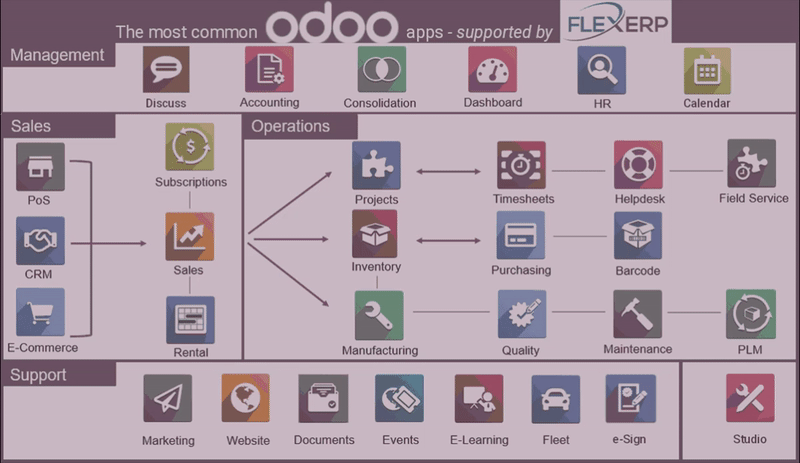 Meningen med sådan en løsning, er at forbinde alle afdelinger i en virksomhed. Heriblandt at sørge for let kommunikation men også gøre data tilgængeligt hvor det skal bruges. F.eks. at sørge for at man ikke sælger en vare man ikke har på lager i sin Webshop, ved at forbinde de to dele. Ledelse har også mulighed for at skabe sig et bedre overblik og anvende mere komplekse rapporter. Hvis dette lyder kompliceret står vi til rådighed for at hjælpe med at komme i gang med sådan en opsætning. at hjælpe med at komme i gang med sådan en opsætning.
I starten af indlægget blev der nævnt "Mulighed for trinvis udvidelse". En virksomhed kan f.eks. udvide med en ny salgskanal igennem en Webshop, og stadig bibeholde deres eksisterende processor, uden at der skal ændres noget. Du kan f.eks. begynde med en Webshop og senere tilføje håndtering af fakturering og lager. På denne måde får jeres virksomhed en Webshop, en base for et ERP system og starten på digitaliseringen af jeres virksomhed.
Her bruger vi Odoo's ERP system, som vi kan hjælpe med at implementer. Systemet er blevet opbygget over de sidste 15 år og kom frem da online salg og service begyndte at blive en norm. Når man tænker ERP kommer systemer som SAP, Oracle og Navision til tankerne, men disse systemer kom på markedet i en tid hvor online salg ikke var kommet frem endnu. Derfor er disse systemer mindre fleksible når det gælder online salg. Odoo systemet kræver færre ressourcer at starte på og er let tilgængeligt siden det er Cloud baseret. Dette gør det let for en mindre virksomhed at anskaffe et system som Odoo, som ikke var muligt for 10 år siden.
Systemet koster 250 kr. om måneden pr. bruger. Dette kan i selvfølgelig altid selv sætte op, men ellers står vi til rådighed. Vores priser kan findes i det nedenstående link.

Som sidste del vil vi nævne den tilskudsordning i kan få gavn af, til at starte på digitaliseringen af jeres virksomhed. Dette kan i læse yderligere om i linket.